ShareThis
The powerdropping issue had been settled by Entrecard well those that have created a tool to only display widgets and I think it is a very good move since it is an insult to blog owners. However, you can still enjoy powerdropping, reading and browsing your favorite Entrecard blogs thru a technique offered by Blog-o-Ninja. This blog also offers lots of free blogging resources which would help bloggers everywhere.

Blog-o-Ninja offers a lot of help to bloggers from simple SEO tips, to widgets and to optimization of your blog. The blog is also Entrecard friendly so you will certainly get a lot out of this blog if you are also an Entrecarder.

SITE RATINGS:

Layout - 9

Content - 10

Coherence - 10

Reach - 6

Readability - 10

Overall Rating - 9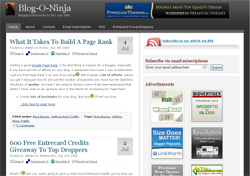 Thanks to Chetan for this blog and her is what he had to say about it:


Hi, I am Chetan, the author of Blog-o-Ninja. I started blogging 3 months ago when one of my friends told me about it. And within days I had many blogspot blogs. Because of some HTML basics that I know(from my sixth grade school days), I was editing my blog's templates everyday. Slowly I found that whatever I know could be very useful for other bloggers. So this site is where all the bloggers would find great content related to customizing there blog, SEO and some earning methods on the net to keep the spirit going.


So if you want to learn more about the new powerdropping technique as well as mortools and tips for your blog just drop by at Blog-O-Ninja.